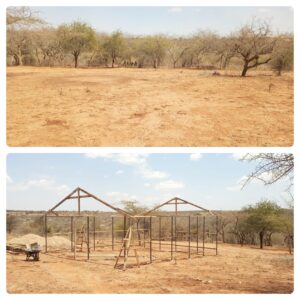 We feel so honored to work with a village community near the town of Kiajado in bringing a place of worship to this Massai community. It has been such a wonderful experience, as the community has been overwhelmingly kind. The massai people are one of the kindest I have ever seen.
As you can gather, this congregation was overly excited about having an actual place to worship. A church building means that they can still have service if it is the rainy season and can enjoy the service inside when it is the dry season. Currently, it is the dry season where it can reach over 100 degrees. Therefore not as many people come due to the high heat in the middle of the day.  It will also be a place where the community can come together for meetings and counseling, and perhaps even a one-room school house one day soon!
The church is located about 2 hours from the capital of Kenya, Nairobi and about a 30 minutes drive from our first church we built in August. This area is called "Massailand." The people still live in huts made of sticks and mud, cook over a fire, and wash using a bucket.
We broke ground on the church this week and should be finished in a few short weeks!