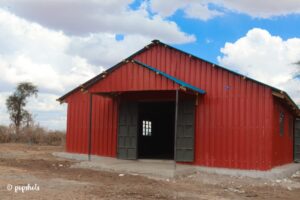 We are so grateful for a few large donors who gave towards our third church. he name of this church is Cornerstone - Acacia of Hope Church. The pastor, Timothy, has been a pastor since 1982 and has never preached inside of a building before with his congregation.
As you can gather, this congregation was overly excited about having an actual place to worship. A church building meany that they can still have service if it is the rainy season and can enjoy the service inside when it is the dry season. Currently, it is the dry season where it can reach 110 degrees. Therefore not as many people come due to the high heat in the middle of the day.  It will also be a place where the community can come together for meetings and counseling, and perhaps even a one-room school house one day soon!
The church is located about 3 hours from the capital of Kenya, Nairobi and about a 30 minutes drive from our first church we built in August. This area is called "Massailand." The people still live in huts made of sticks and mud, cook over a fire, and wash using a bucket.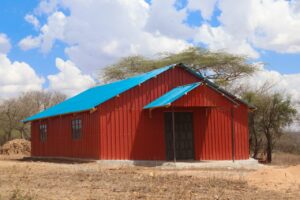 The church opened on November 21st with celebration!
The community enjoyed a service under an Acacia tree one last time, a remembrance of where they started. After service, they sang and danced to worship songs as they made their way to the front doors of the new church and inside. Smiles were everywhere as they enjoyed a second sermon by an area church leader and worshipped again.
Speeches were made. Songs were sang. Prayers were given.
Together, we are changing the world!